Sturdi-Built offers three exterior glazing options — Standard Glass, Tempered Glass, and Twin Wall Polycarbonate — and an interior glazing system called our Thermal Option which can be used for additional insulation. Each exterior glazing choice offers advantages and disadvantages. The best exterior glazing material for your greenhouse is determined by personal preferences, climate and budget.
Most of our greenhouse kits come with Standard Glass in the walls and roof. Customers may upgrade to Tempered Glass or Twin Wall Polycarbonate for an additional cost. Please note that Twin Wall Polycarbonate can only be used in the roof as glass in the walls provides structure for the greenhouse frame.
See below for a chart that can help as you decide which material is best for you.
STANDARD GLASS
TEMPERED GLASS
TWIN WALL POLYCARBONATE
SUMMARY

The same material as most home window glass
1/8" thick
1.0 R-value

Same material as auto glass

1/8" thick

1.0 R-value

81% light transmission
6mm thick
1.7 R-value

ADVANTAGES

Comes with greenhouse (no additional cost)
Fully transparent
Long-lasting
Inexpensive to replace
Available at most local glass shops
Easy to clean

4x stronger than Standard Glass
Can withstand more snow load than Standard Glass and Twin Wall Polycarbonate
Breaks in small pieces for safety
Long-lasting
Fully transparent
Resists scratches
Available at most local glass shops
Easy to clean

250x stronger than Standard Glass
UV-protected
Impact-resistant
Light-diffusing
Prevents leaf burn
Lightweight
Better thermal efficiency than glass
Provides frost protection

DISADVANTAGES

Most fragile material we offer
Least forgiving to hits
Breaks in shards
Potential to burn plants due to the level of clarity
Heavier than Twin Wall Polycarbonate

Potential to burn plants due to the level of clarity
Heavier than Twin Wall Polycarbonate
More prone to breakage than Twin Wall Polycarbonate

Not as resistant to scratches as glass
15-20 year average lifespan
Not fully transparent

MAINTENANCE
Clean with any glass specific cleaning product
Clean with any glass specific cleaning product
Clean gently using warm water with a few drops of liquid detergent and a microfiber cloth
STANDARD ANNEALED GLASS
SUMMARY
The same material as most home window glass
1/8" thick
1.0 R-value
ADVANTAGES
Comes with greenhouse (no additional cost)
Fully transparent
Long-lasting
Inexpensive to replace
Available at most local glass shops
Easy to clean
DISADVANTAGES
Most fragile material we offer
Least forgiving to hits
Breaks in shards
Potential to burn plants due to the level of clarity
Heavier than Twin Wall Polycarbonate
MAINTENANCE
Clean with any glass specific cleaning product
TEMPERED GLASS
SUMMARY
Same material as auto glass
1/8" thick
1.0 R-value
ADVANTAGES
4x stronger than standard annealed glass
Can withstand more snow load than standard glass and twin wall polycarbonate
Breaks in small pieces for safety
Long-lasting
Fully transparent
Resists scratches
Available at most local glass shops
Easy to clean
DISADVANTAGES
Potential to burn plants due to the level of clarity
Heavier than Twin Wall Polycarbonate
More prone to breakage than Twin Wall Polycarbonate
MAINTENANCE
Clean with any glass specific cleaning product
TWIN WALL POLYCARBONATE
SUMMARY
81% light transmission
6mm thick
1.7 R-value
ADVANTAGES
250x stronger than standard glass
UV-protected
Impact-resistant
Light-diffusing
Prevents leaf burn
Lightweight
Better thermal efficiency than glass
Provides frost protection
DISADVANTAGES
Not as resistant to scratches as glass
15-20 year average lifespan
Not fully transparent
MAINTENANCE
Clean gently using warm water with a few drops of liquid detergent and a microfiber cloth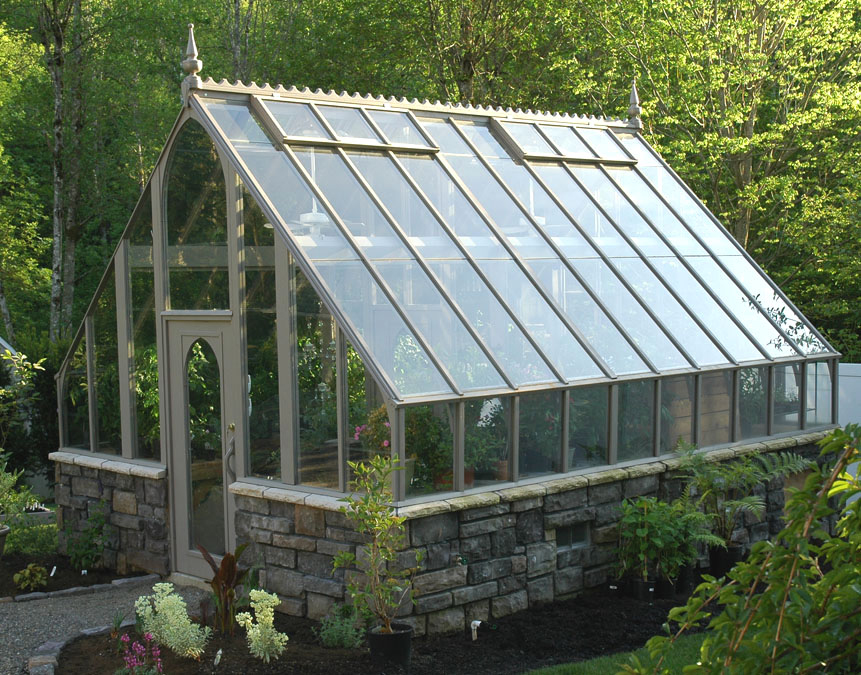 Tudor with glass in roof and walls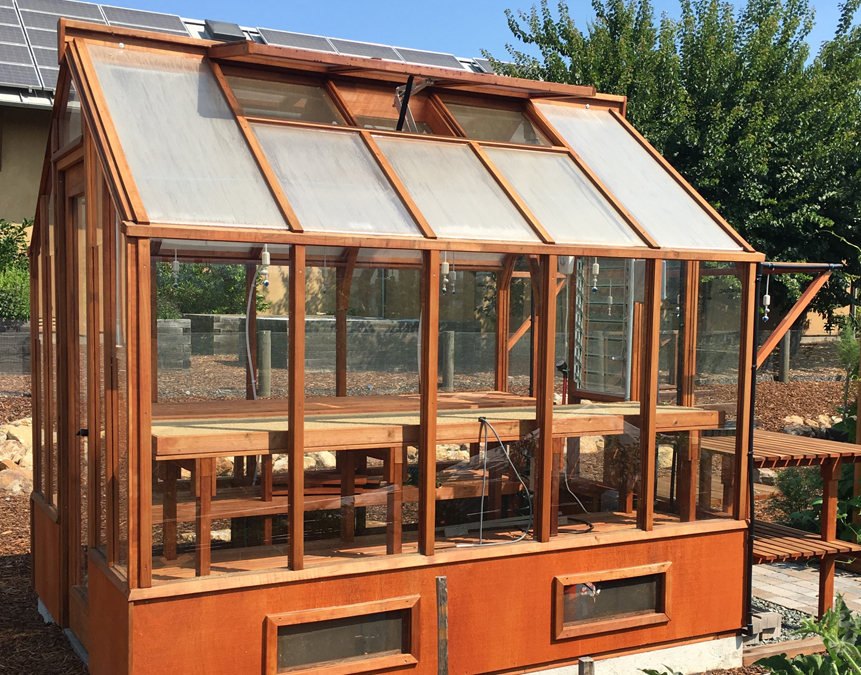 Trillium with Twin Wall Polycarbonate in roof and glass in walls