Greenhouses Versus Solariums?
Greenhouses are glazed structures primarily for horticultural use while Solariums and Sunrooms are more for living, growing or some combination use. All may be attached to the house or freestanding. Solariums and Sunrooms can be used for an "incidental" living space such as a spa enclosure, office or sitting area in addition to gardening. Usually, a wall or sliding door separates a Sunroom from the house.
Our Garden Sunroom model is designed for incidental living use, perhaps separated from the house by a door. Custom situations can be accommodated.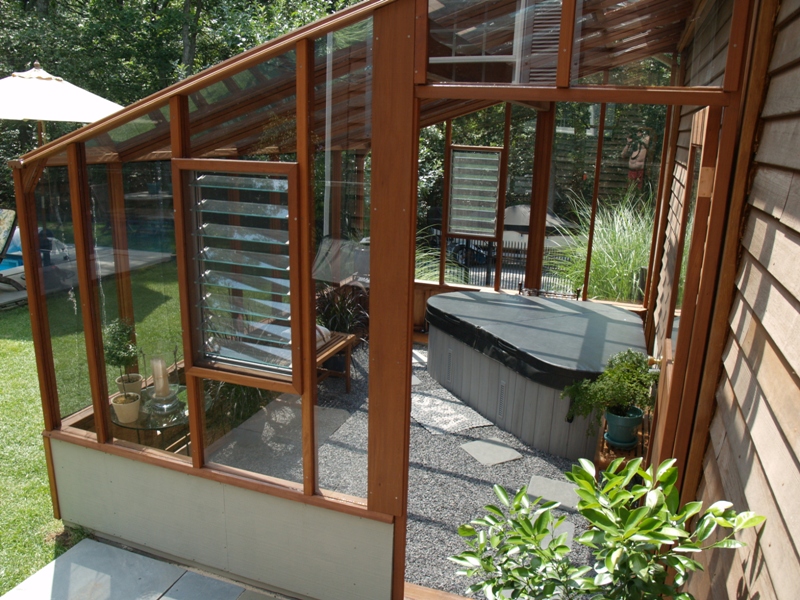 Selecting the Best Location for My Greenhouse?
Consider how your greenhouse will best fit in with your home's landscaping, exposure to sunlight, wind, snow, convenient access and ease of construction and installation. For sun exposure, generally a southeasterly exposure is best for growing, with east, south, then west exposures following in that order. Adequate light is essential for successful greenhouse gardening, although it is possible to supplement with LED lighting. For solar heating, southerly exposure is best.
Additional pointers:
Avoid locating greenhouses below a house's roof overhang as heavy snow buildup might suddenly "avalanche" down upon the greenhouse.

Avoid locating a greenhouse under trees that may drop heavy limbs.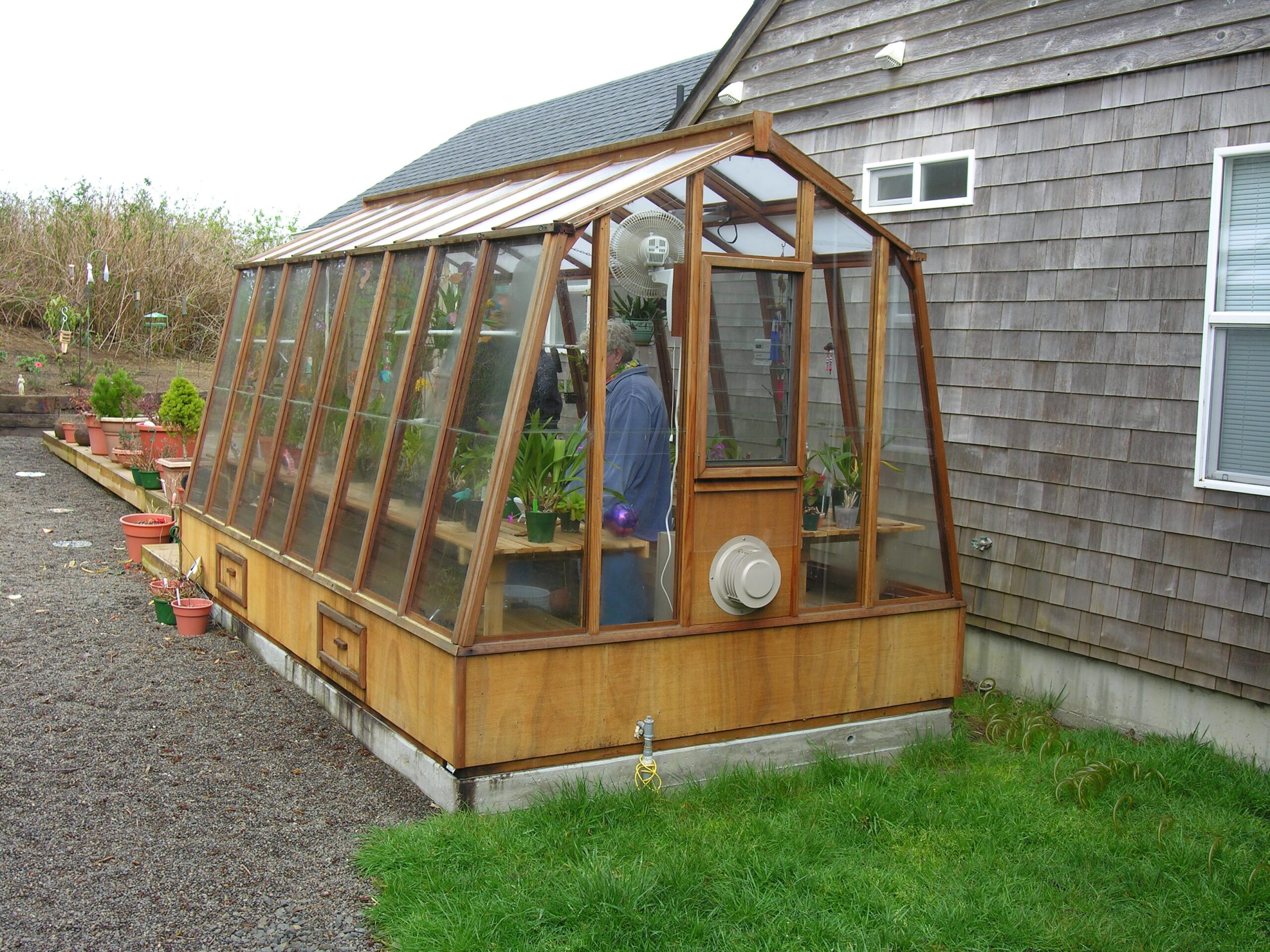 How Does Snow Affect Greenhouses?
Snow can add weight to the greenhouse frame. Snow load is measured as "pounds per square foot." When accumulated on a greenhouse roof, snow can block light and create a 'refrigerator effect' inside – not good for sensitive plants. To avoid these challenges we offer LED lighting, heaters and wall mount oscillating fans.
To deal with the added water weight (snow load) the greenhouse frame may need to be strengthened. Sturdi-Built Greenhouses are engineered for a 25-pound per square foot ground snow load. If your location has a higher snow load, we can advise you on options to strengthen the frame, such as added posts, gusset and/or rafter ties.
Sturdi-Built greenhouses are strong but it is important to prevent too much snow from accumulating on any greenhouse. A steep roof pitch (such as what our Tudor model uses) allows snow to easily slide off as well as keep the greenhouse slightly heated in winter.
Remove shade cloth before winter because it prevents snow from sliding. Avoid locating greenhouses below a house's roof overhang as heavy snow buildup might suddenly "avalanche" down upon the greenhouse.
Consider a taller base wall (32" high) in high snow load areas, so any persistent ground snow does not effect the greenhouse frame. More info.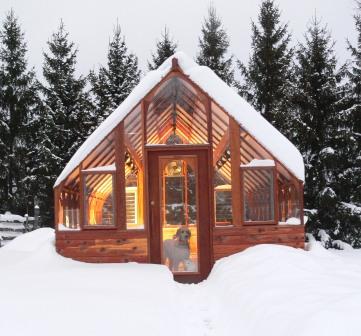 Attaching a Greenhouse to a Home or Other Structure?
Sturdi-Built offers freestanding, lean-to, attached, and lean-to and attached solutions. Lean-to greenhouses are attached to the wall of a building and are easier to heat because one side is a solid wall. Freestanding greenhouses stand on their own and can be located anywhere. Attached greenhouses share an end-wall with your structure – at the gable end of the greenhouse. More info.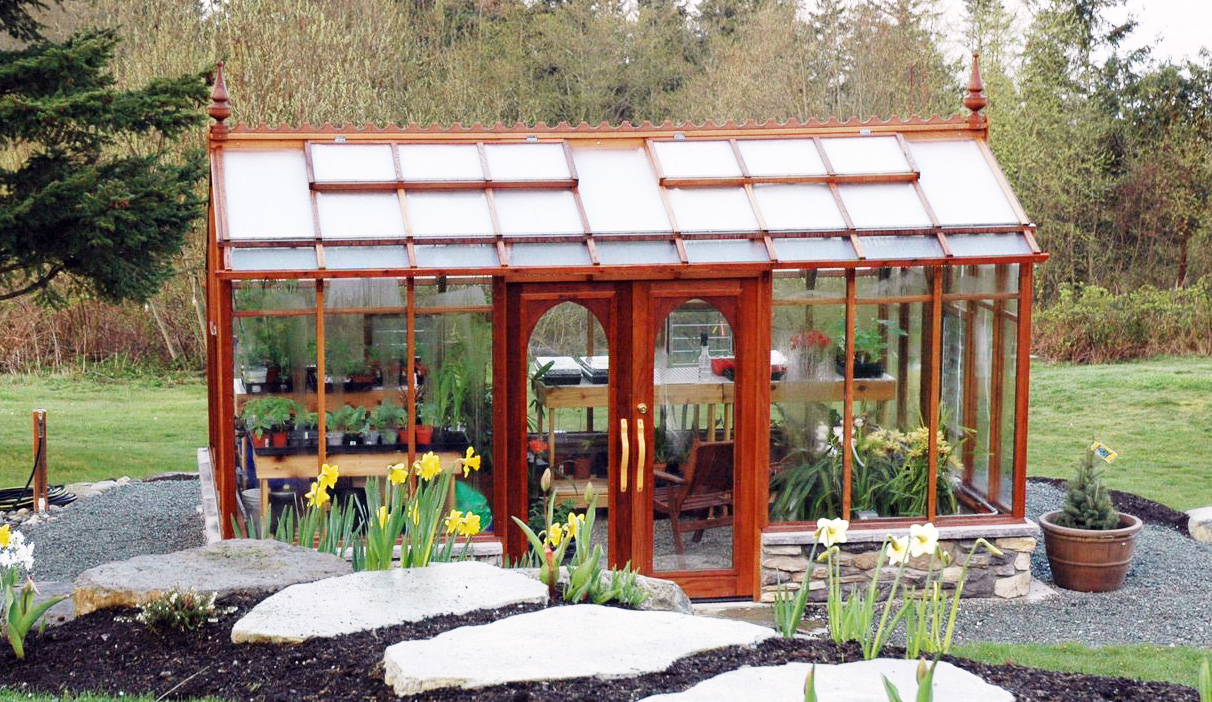 How High Should My Basewall Be?
Basewalls (or knee walls) add strength to the greenhouse structure. Sturdi-Built offers storage three standard basewall heights: 9 ½" (Glass-to-Ground), 18" and 32".
The higher a basewall, the more shade inside. A 32" high base wall offers storage under the benches – when single-tier bench is used. An 18" high provides enough light for a 2-tier bench. A 9 ½" high basewall provides enough light to grow in the ground. The higher the base wall, the easier the greenhouse is to heat because the base wall can be insulated. Regardless, greenhouses should be tall enough to accommodate your plants and your height. Depending on style, you may be able to increase the height of the greenhouse by changing the height of the basewall from what is standard to the model to one that is higher (e.g. converting from 9.5″ base wall to an 18″). This is a common change with our glass-to-ground models like our Deluxe Glass-to-Ground and our Solite.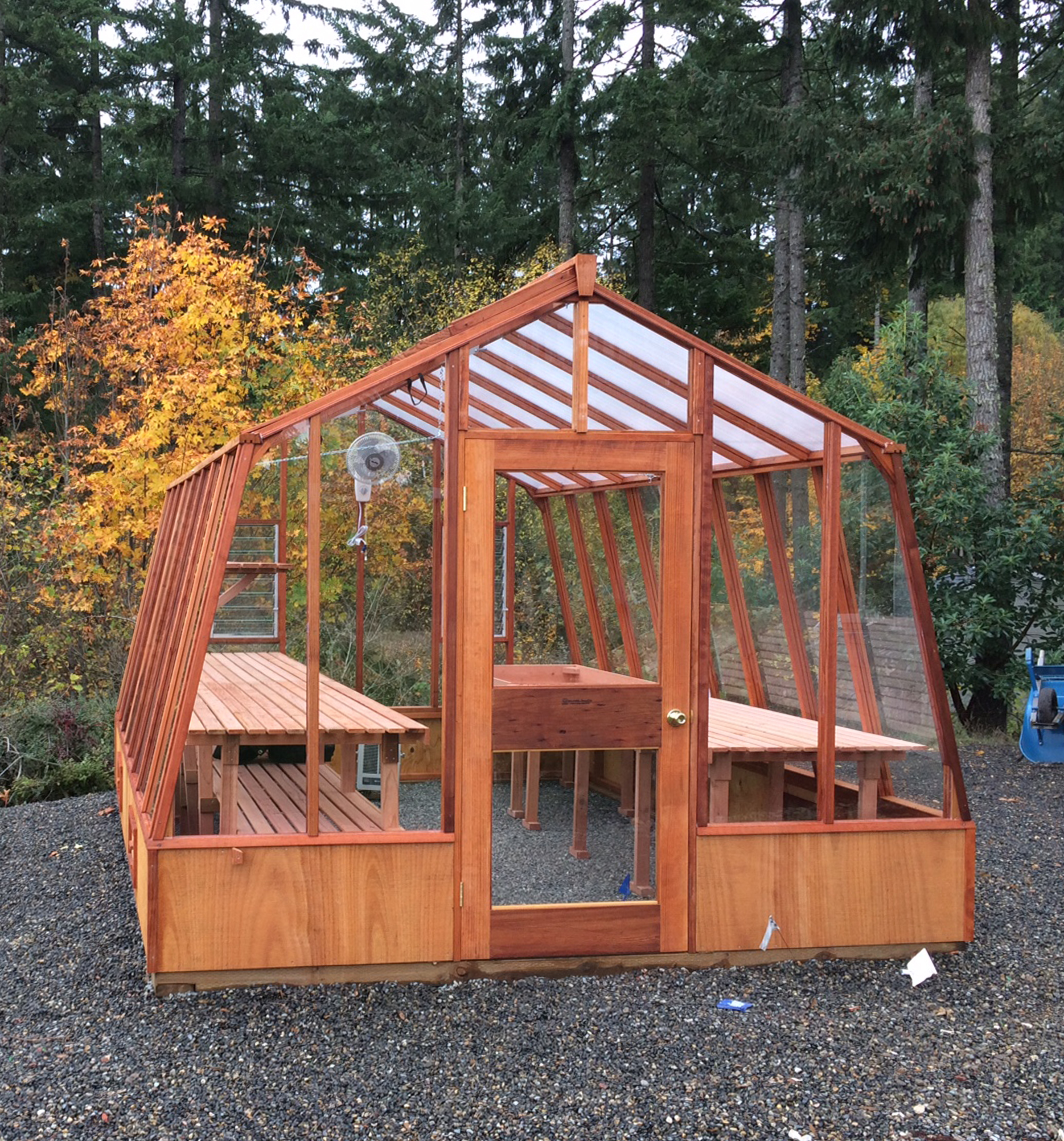 What to Look for in a Greenhouse Solution?
A good greenhouse structure must handle wind, rain, condensation, humidity, flying insects and other critters snow, and allow for storage, growing, benches, shelves, hanging plants, light fixtures and other accessories, such as heaters, coolers and fans. Sturdi-Built custom designs and equips our greenhouses so we make sure you get the best design features for your situation.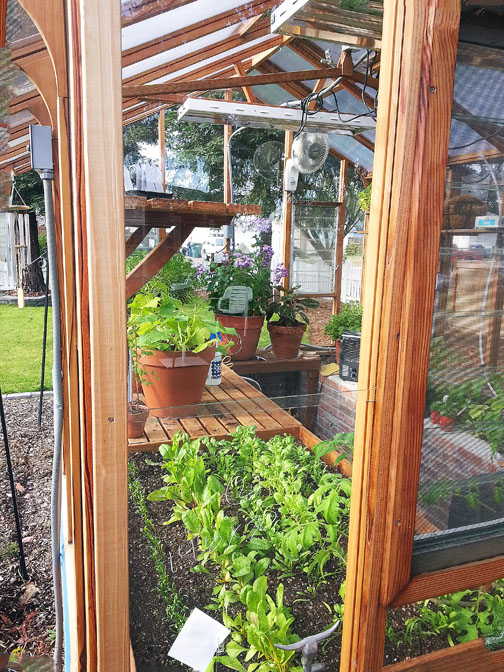 How Large Should Your Greenhouse Be?
Select a greenhouse as large as your site and budget will allow. Greenhouse gardeners inevitably wish they had more space to accommodate their growing plants. Adequate height is important for your comfort as well as providing room for shelves and hanging plants. Additional growing space can be provided with a shorter base wall that allows for more under-shelf growing space as well as shelves along the walls.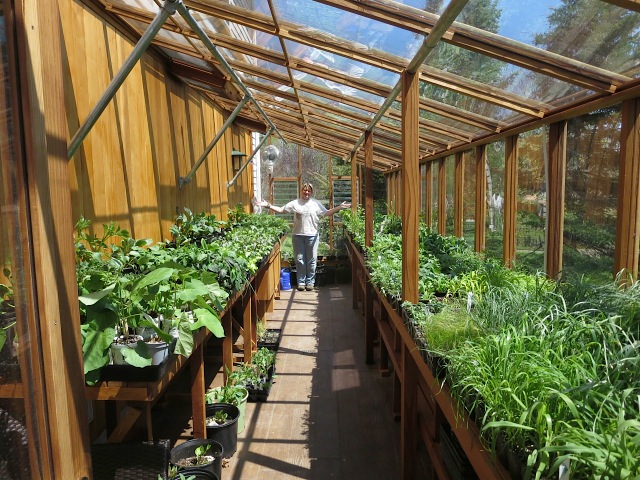 Why Does Sturdi-Built Use Redwood?
Wood has a warm, natural beauty. Redwood and cedar are naturally resistant to deterioration (specifically top quality, All Clear Heart Redwood we use). Redwood can be stained to match the décor of your home. We strongly recommend oiling or staining the wood to preserve its good looks. Wood is energy efficient. Aluminum transmits heat 1400 times faster than wood – a problem in freezing temperatures. Wood also allows easy addition of accessories such as shelves, hooks, hanging bars, light fixtures and shade cloth. Every wood piece in a Sturdi-Built Greenhouse is custom molded to a smooth surface, sloped to drain water and contoured for optimal use. More info.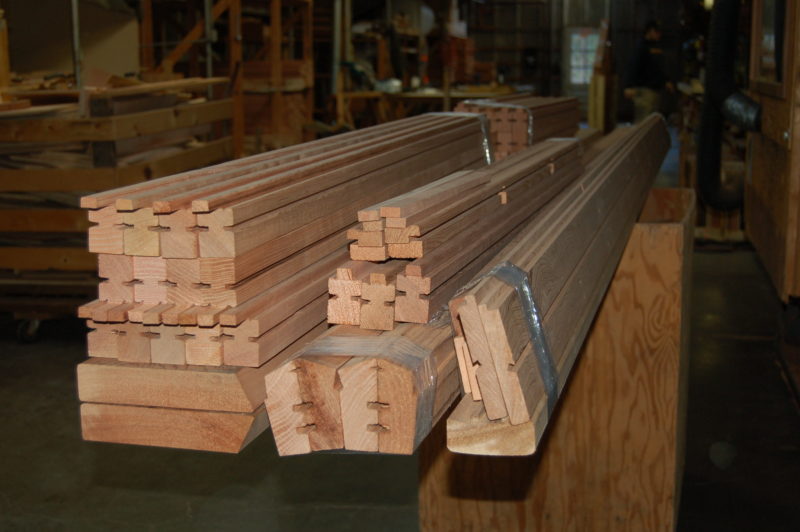 What Glazing is Best?
Glazing is the glass and plastic covering the outside of the greenhouse. Glass is strong, attractive, clear and long-lasting. Our standard glazing is regular window glass (Standard Glass). If there is a high risk of breakage (such as large hail, balls or trees with large cones) or when overhead safety glazing is desired, Tempered Glass or Twin Wall Polycarbonate can be used. Twin Wall Polycarbonate is translucent and has a UV coating, is more energy efficient than glass and will last at least 12 to 15 years. Factory insulated glass, like what is used in homes, deteriorates in moist conditions, therefore is not appropriate for greenhouse use. For those who are in colder climates, consider using our Thermal Option system.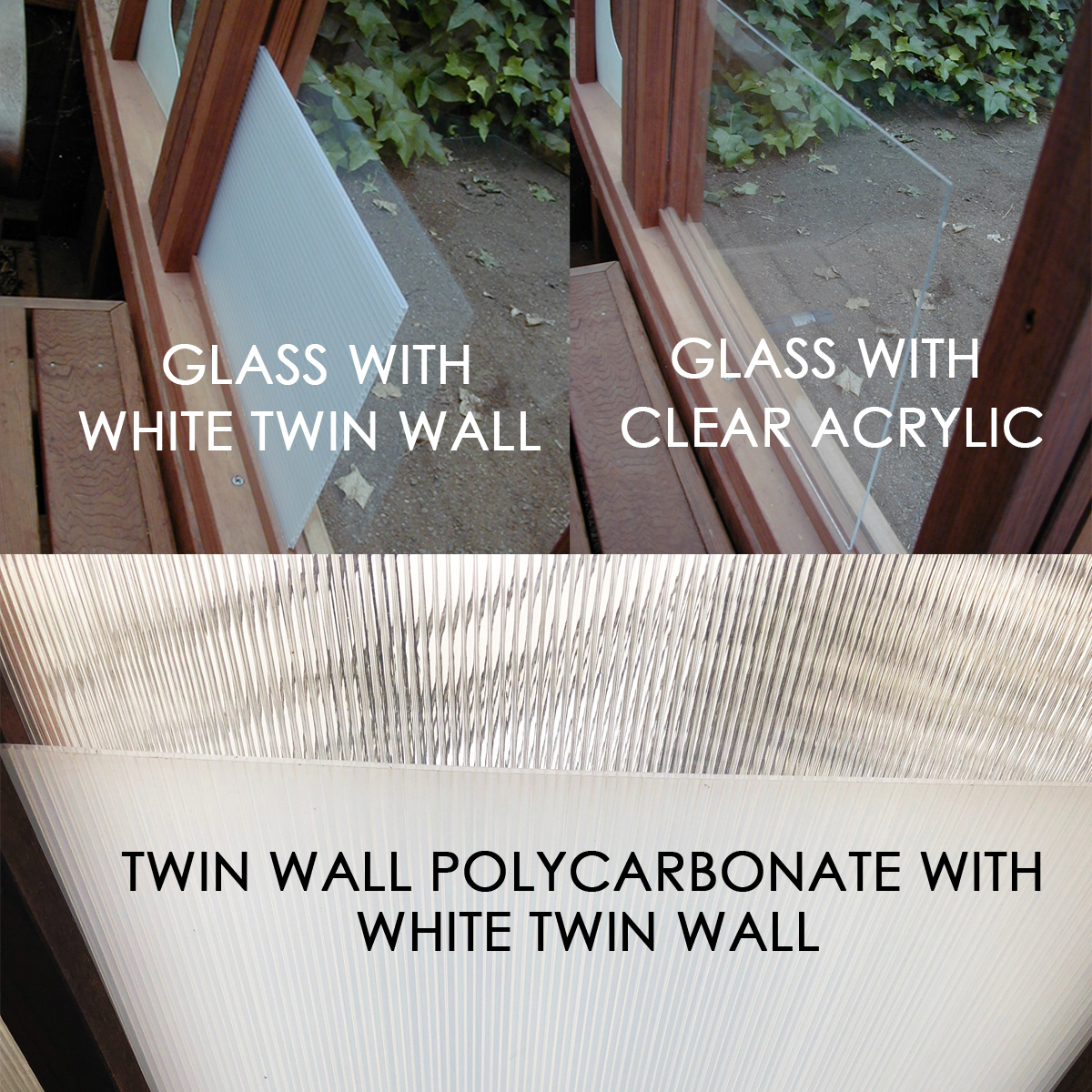 What Accessories are Needed?
Sturdi-Built draws on our 60 years of experience to set you up with the proper equipment for your situation. This usually includes:
Circulating fan: Air movement is essential for a healthy greenhouse environment and helps reduce heating costs, occurrence of mold and condensation. We recommend continuous, gentle air movement 24/7 provided by an oscillating fan.
Heater: Type and size of heater depends of the size of the greenhouse and the inside and outside temperatures involved. Gas (natural or LP, or electric (120V or 240V) heaters can be used. To make a heater more effective add an additional thermostat to turn the heater on and off at specific temperatures.
Coolers: In very hot climates, often positive cooling is needed. Air conditioners de-humidify the greenhouse, so we recommend evaporative air coolers which draw hot air through wet pads using a fan or blower. Water evaporates from the pads, providing cool, clean, humid air.
Humidifier or Mister: Plants need adequate humidity in a hot greenhouse. Generally, wetting down a porous (bricks, gravel) floor is the easiest method for creating humidity. An automatic humidifier or a misting/fogging system may be added if more humidity is desired.
Shading: Depending on sun exposure, greenhouse glazing selections and plants being grown inside, shading might be needed. Ways to shade include shade cloth, shading film, shading paint, and roll-up shades. We recommend custom-fit shade cloth panels added to all or part of the greenhouse. Attached on the outside of the greenhouse, they are effective, neat in appearance, reusable and available in a variety of densities.
Propagation Mats: With good bottom heat, propagation is easy and fast, even in a cool greenhouse. Propagation mats are great for supplying heat to plants in containers.
Shelves & Benches:Generally, some type of benches and/or shelves are needed. Many options are available and depend on the size and style of your greenhouse. More info on accessories.
Roof Vent Screen Kits: Sturdi-Built roof vents provide a 60"x20" opening for flying insects, birds, and other pests like squirrels to enter your greenhouse. Use Roof Vent Screen Kits to prevent these pests from entering.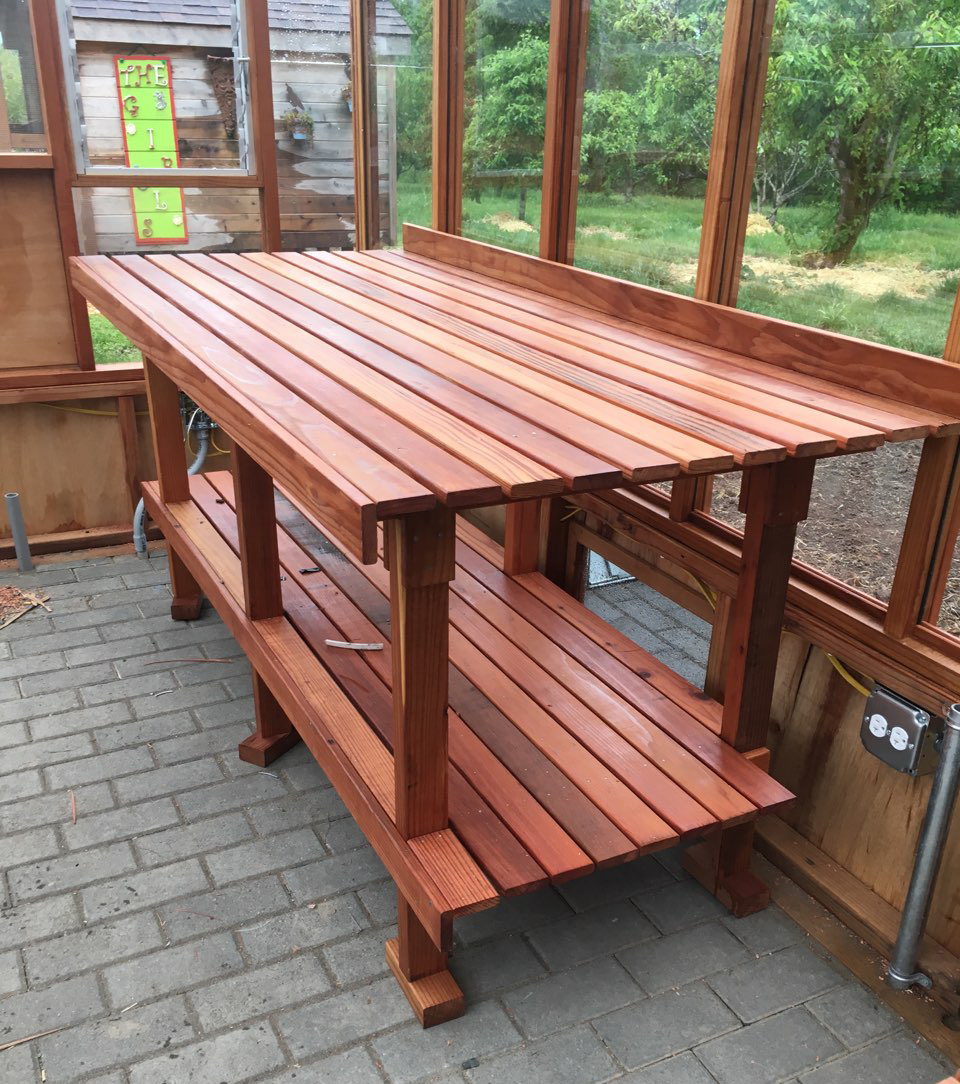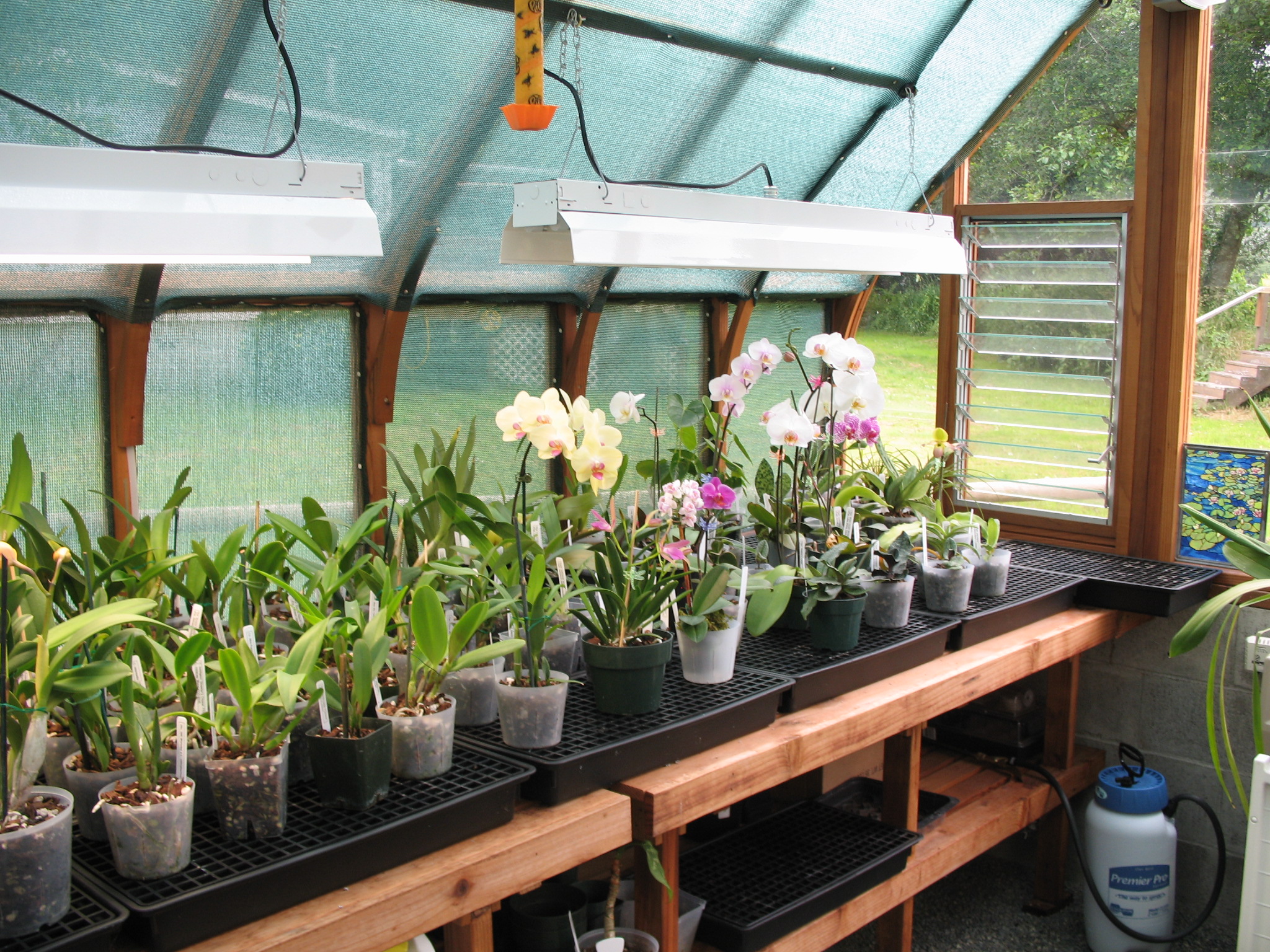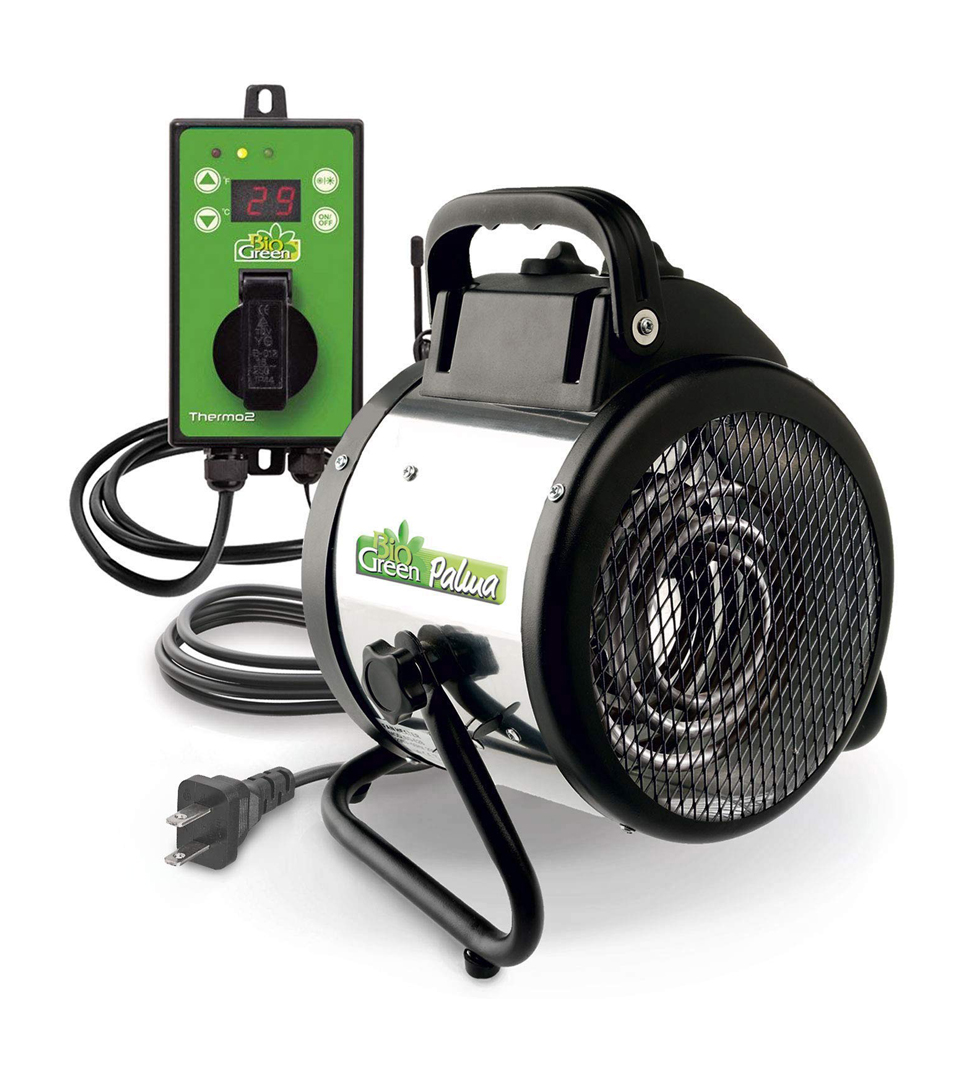 Is a Foundation Needed for My Greenhouse?
Yes. An existing patio or deck if well-built can be used, or a perimeter foundation built from concrete, concrete block, railroad ties or treated timber. A Sturdi-Built greenhouse can be adapted to fit many foundation situations. For the greenhouse floor we recommend gravel or bricks set in sand or other porous material.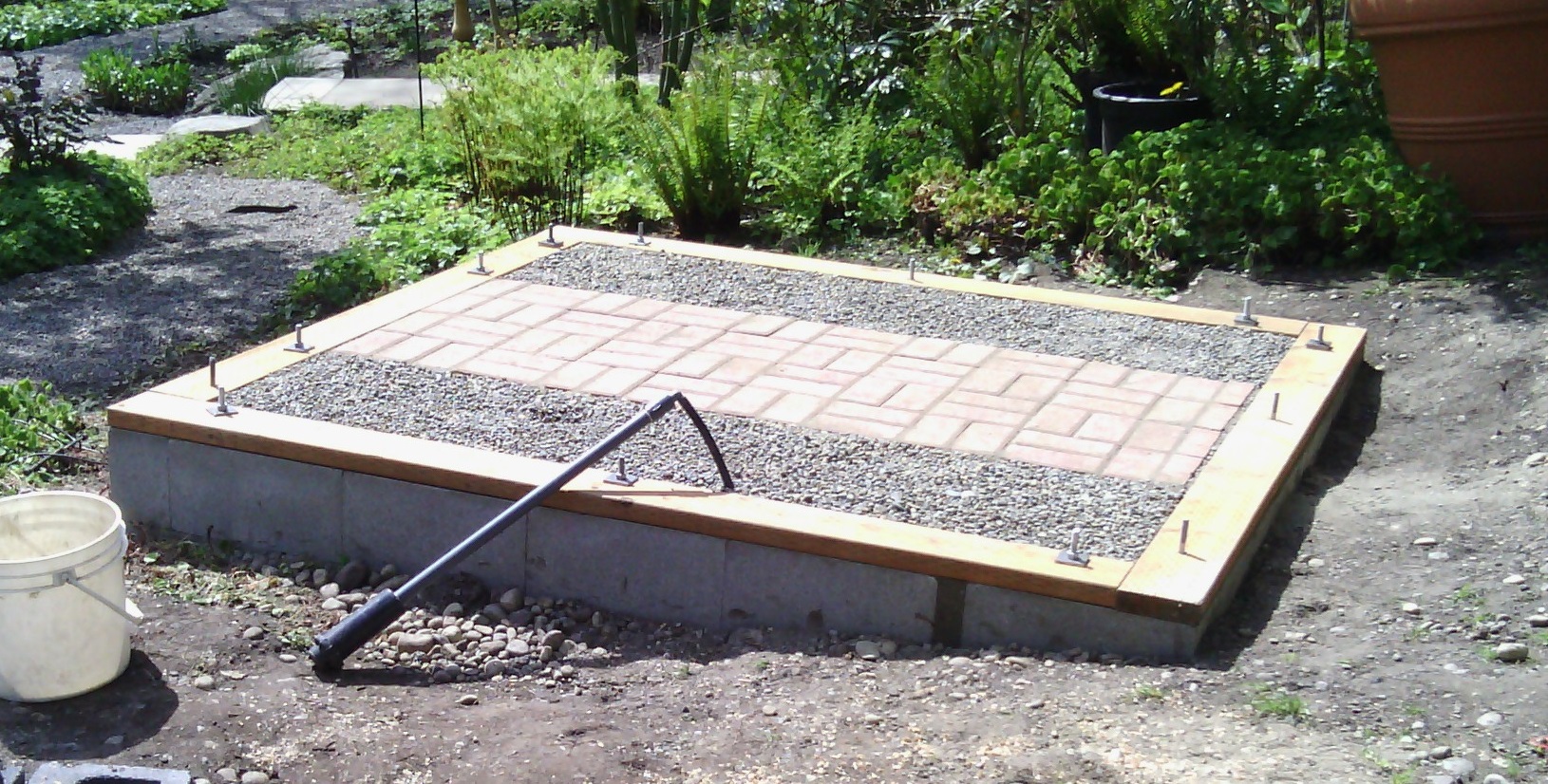 Are Building Permits Required for a Greenhouse?
Greenhouses tend to be in a building code "twilight zone". Local codes and code interpretations vary greatly between counties and even between individuals within the same department. Compliance is the responsibility of the buyer. We have found that a freestanding greenhouse less that 120 sq. ft. in size usually does not require a permit. Lean-to greenhouses attached to a wall of the house or garage, even if less that 120 sq. ft., are sometimes considered living space and subject to stricter rules. Getting a permit can be as simple as providing basic greenhouse plans and as complicated and costly as having a state licensed engineer approve the plans. If you choose to obtain a permit, get it before placing a greenhouse order in case there are changes needed to comply with codes. We will do our best to help you through this process.
How are Sturdi-Built Greenhouses Delivered?
Our greenhouses are delivered via truck. They are large shipments. Often truck drivers will help off-load the shipment but you should be prepared to assist. If you live in a remote rural location or other area difficult for trucks to access, let us know ahead of time. Sturdi-Built crates every shipment in fir or pine for protection and has the trucking company call you in advance to arrange a delivery time. Units delivered in the Portland Oregon area can be delivered by us.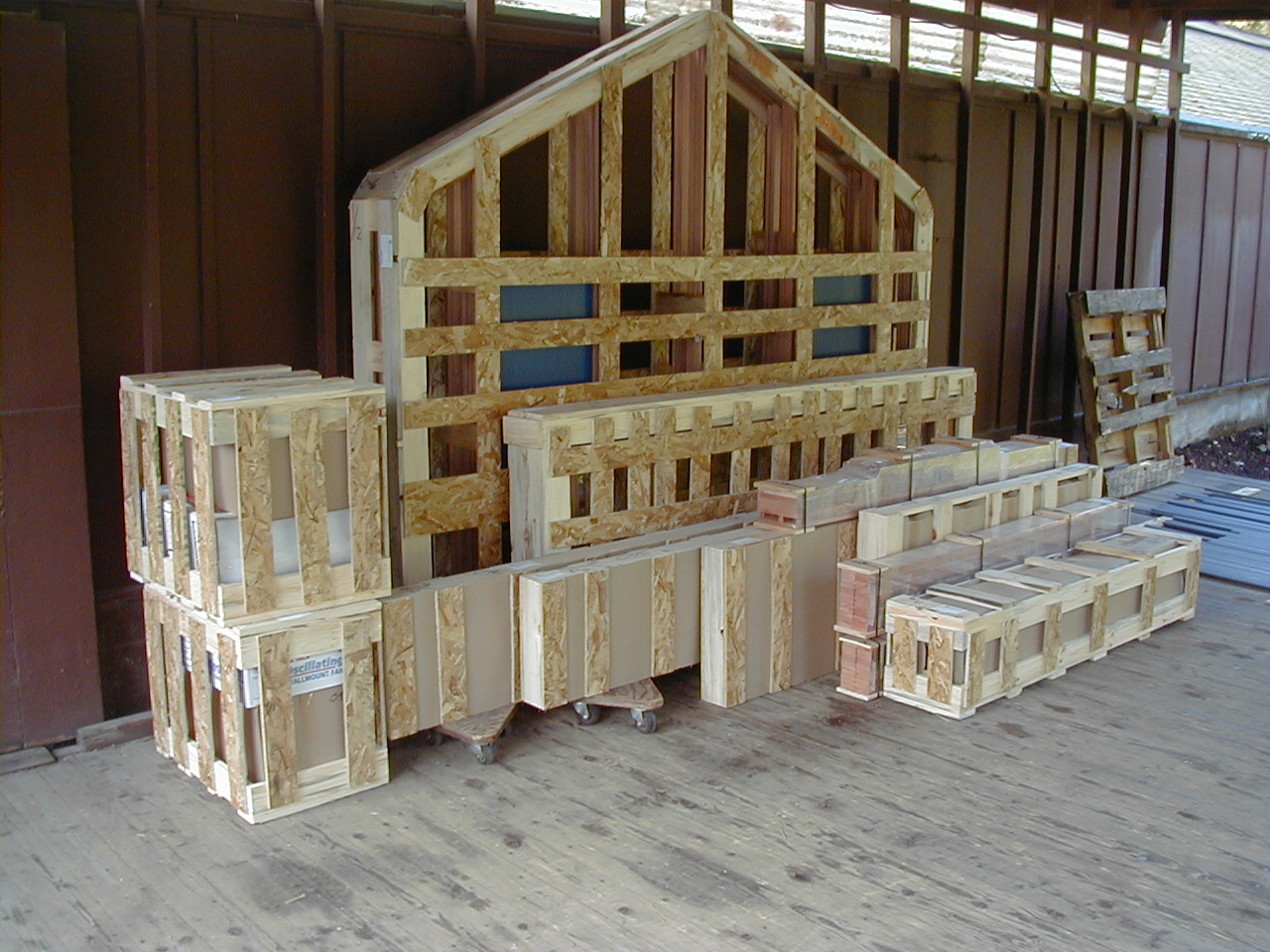 What Comes With My Greenhouse Kit?
Many other greenhouse kits come in dozens of small pieces with a great deal of assembly required. While this saves on shipping, it costs you time! We have tried to find a compromise between freight costs, size limitations and your time. A Sturdi-Built Greenhouse comes partially assembled. End walls are prefabricated in large sections; the sides and roof are cut and marked, ready to assemble; the door is pre-hung in its frame. We sell a complete kit, ready to be put on your foundation or base wall. The kit includes greenhouse frame and door, hardware, glass (or other glazing material), caulking, vents and instructions. You will be proud of the result. More info.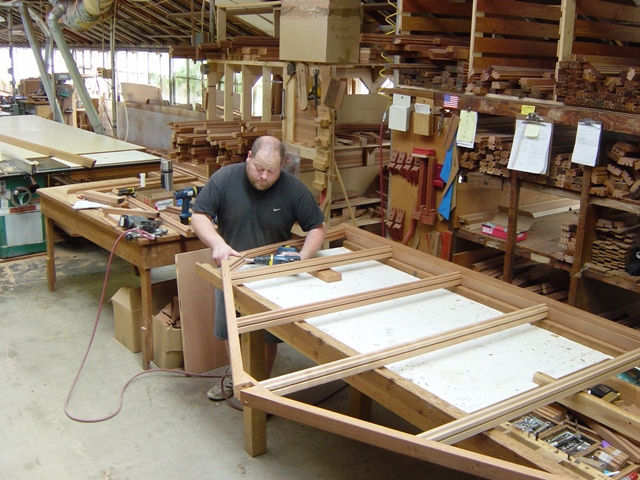 How do I order a Sturdi-Built Greenhouse?
Call us (503-862-3699) or email to talk through your greenhouse gardening needs. We talk through issues such as location, glazing materials, ventilation, circulation, heating, cooling, shading, etc., and share our experience and knowledge to create the greenhouse you desire. Our greenhouses are not "one size fits all". We work with each customer to put together the best greenhouse possible. We use our 60 years of experience working with customers all over the U.S. (many of whom we have visited), and apply this knowledge to your situation. Let us help you with your greenhouse dreams.