How to Build a Greenhouse by Sturdi-Built

How to Build a Greenhouse by Sturdi-Built

After placing an order, we send a complete instruction manual showing how to assemble your greenhouse using our kit. Our redwood greenhouse kits have the materials you need to build the greenhouse on your foundation — wooden frame, glass (or other optional glazing material), hardware, pre-hung door, caulking and instructions. Our greenhouse kits are partially prefabricated, with end walls factory assembled and shipped in large sections. The doors are pre-hung. Roof and side wall components are precision pre-cut, drilled for screws and ready for assembly before placing on your foundation or base wall.
Customers nearby Portland can have their side walls and roof sections prefabricated for a small fee. When shipped, side walls and roof sections are pre-marked for assembly with complete instructions and screws included.
We strongly recommend that the redwood frame be stained before assembling the greenhouse to avoid having to tape around glass and to finish all surfaces. Useful tools: hand saw, variable speed drill with Phillips screwdriver bit, hammer, drill bits, tape measure, 1" drill bit for door catch, screwdriver, pliers, adjustable wrench, glass cutter, level, and a good caulking gun. Additional details are found in the Installation Manual.
The video below shows an overview of what to expect when receiving and building your greenhouse.
Click here for our other greenhouse assembly videos showing assembly of different parts.
Overview of how to Build a Sturdi-Built Greenhouse:
1. Greenhouse foundation measurements are provided in your Greenhouse Instruction Manual. (We provide a measured drawing.) Foundation must be square, level and well-anchored to the ground.
2. Our greenhouse end walls come to you pre-assembled. Roof and side wall sections are in precut pieces, marked and ready to assemble. Lay out the sections on a flat surface, such as a garage floor and then screw together at ground level.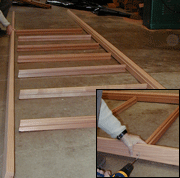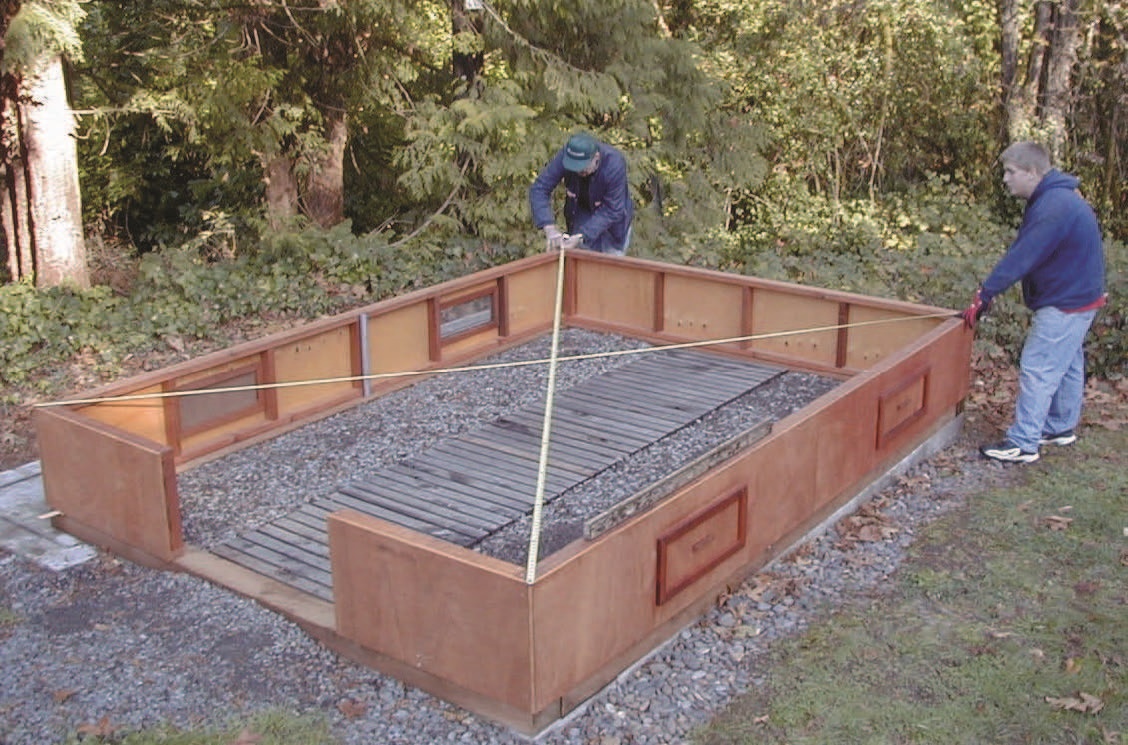 Greenhouse Foundation
3. Place basewall sections together on your foundation so they are square and level. Some customers build their greenhouse basewall out of masonry, stone or brick. If you wish to do this, you Instruction Manual includes a measured drawing for your basewall.
4. The wall sections that you have assembled are placed on the base walls and interlock at the corners.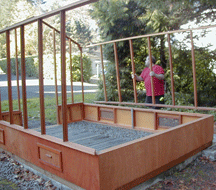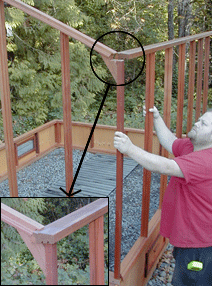 Join the Greenhouse Corners Together

5. Set the end wall sections into place on the base walls then set the side wall sections into place. Fit the end walls and the sidewalls together at the corners by leaning the end walls outward and inserting the eave plates into the end walls. Our unique joinery will actually hold the sections together temporarily without fastening.
Slide the Roof in Place
6. Slide the roof sections up the end wall sections until they drop into place at the ridge.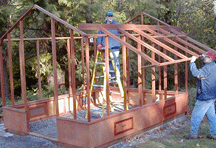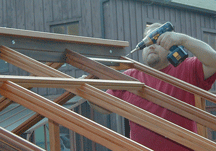 Greenhouse Assembly
7. Bolt the ridge rails together, then loosely screw the entire greenhouse frame together.
8. Mark and cut door jambs, then install the pre-hung door assembly. Our doors are generally hinged to swing into the greenhouse and can be hinged on the left or right to accommodate your needs.
9. Finish the structure with tie chains, braces, or roof beams depending on the model. The greenhouse is strong, attractive, and functional.
Install Roof Vent
10. Install glass in the roof vent and then install the vent before putting glass in the rest of the greenhouse.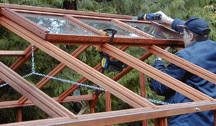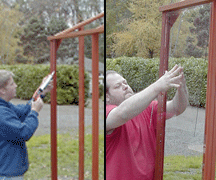 Glazing
11. Install glass (or other optional glazing), setting each glass piece in a bead of caulk. Do the walls first, then roof and finally end walls finishing with a barcap trim to hold the glazing and give the greenhouse a neat appearance.
12. The greenhouse is almost finished! Now add the finishing touches to make your greenhouse unique. Add the standard interior gutter with drain tube. Then add rafter ties, exterior overhangs, ridge scallops, finials, accessories and benches if you ordered these options.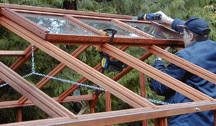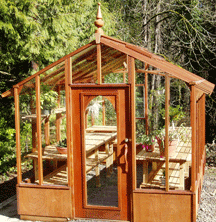 13. Enjoy the greenhouse!!
Assembly Videos:
Trillium Assembly Video
Roof Sections Assembly Video