Bayliss Automatic Solar Greenhouse Roof Vent Openers
Automatic greenhouse roof vent openers from Bayliss Autovents are widely thought to be the best in the world, suitable for both wooden and aluminum greenhouses. Adequate ventilation is an important aspect of greenhouse growing and this solar powered automatic greenhouse vent opener ensures accurate, continuous venting all day and night.
Each Automatic Vent Opener opens and closes a hinged roof vent automatically using energy from the warmth of the sun or the surrounding air. The warmer the temperature gets inside the greenhouse gets, the wider the Automatic Vent Opener opens the vent. Because it uses no electricity or batteries, it is a very environmentally friendly product. The vent begins to open at about 70 degrees.
Bayliss Autovents have been producing automatic greenhouse vent openers in England since 1964. These solar greenhouse vents have a long-standing reputation for quality and reliability.
To place an order by phone, simply call us at 1-800-334-4115 or 503-244-4100 Monday – Friday 8am to 5pm PST. All major credit cards accepted. Prices subject to change.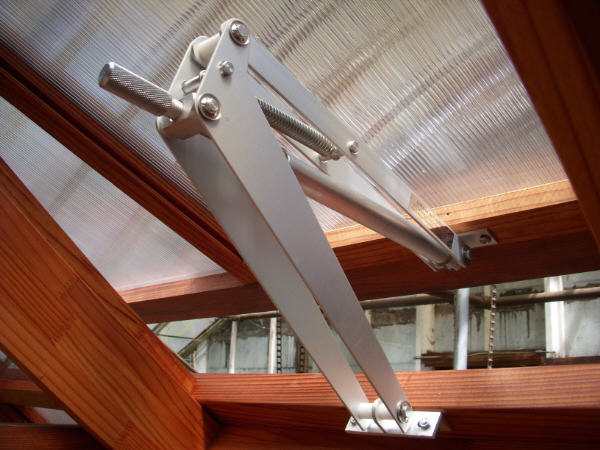 The Bayliss MK7 automatic vent opener offers:
Corrosion-resistant construction

Balanced lifting action

Illustrated fitting instructions
These openers have our special Bayliss Autovent Power Tube with an adjustable beginning opening temperature of 65–75°F. Fully open at 20° higher.
Manufacturer's 2-year guarantee

Wide opening of up to 12 inches

Greenhouse vent opener with wind strap
What does an automatic greenhouse vent opener do? Bayliss Autovent openers can lift hinged vents up to 30lbs. Our single spring units work best on roof vents. We also have triple spring units which work for heavier vents.
Are Wind Safety Straps Recommended?

Yes, Wind Safety Straps keep your roof vent in place in the event of a strong wind gust. The wind safety straps connect from the greenhouse frame to the roof vent frame.
Guidelines: Use your local wind load to determine the number of Wind Safety Straps you need. If your wind load is under 25mph use one wind strap, between 26 and 45 mph two wind straps, between 46 and 75 mph use 3 wind straps, greater than 76 mph use 4 wind straps.
Guaranteed for Two Years
Each greenhouse vent opener is guaranteed for two years against faulty manufacture. As long as the unit has not been tampered with (i.e. the piston pulled out of the power tube), damaged by the vent being tied shut, damaged by unusually strong high winds (add our optional wind strap to keep strong winds from damaging the opener) or fitted incorrectly, we will replace it free of charge if it is returned to us. A failed power tube can also be replaced. Bayliss automatic vent openers are designed and tested to last many years.

How does the vent opener work?
A strong metal tube contains wax which expands with heat. This pushes a piston which opens the vent via a balanced linkage. As the temperature drops, the wax contracts and a strong stainless-steel 6½lb spring (Triple Spring units have (surprise!) 3 springs) which closes the vent and resets the piston. Single spring units work well on roof vents where gravity helps close the vent. For wall vents, you should use Triple Spring MK7 units. We have these available as well. Call or email for information.

Why are Bayliss automatic vent openers superior to the competition?
Bayliss vent openers have been designed by engineers who have experience making automatic vent controls for over 40 years. The Bayliss MK7 has a strong stainless-steel spring to give a firm closing force. The unit gives a balanced lifting action in the middle of the vent, avoiding any sideways thrust on the vent which can damage it.

Do you have an old Bayliss opener that just doesn't seem to open like it used to?
There is a good chance that the Power Tube has lost wax or pressure. If the vent opener isn't bent or damaged in some other way then you might be able to simply replace the Power Tube which is more cost effective. We sell replacement Power Tubes. Give us a call to see if that is a good choice for you.

We are not currently accepting online orders for Bayliss Vent Openers. To place an order by phone, simply call us at 1-800-334-4115 or 503-244-4100 Monday – Friday 8am to 5pm PST. All major credit cards accepted. Prices subject to change.