Custom Greenhouses for All Abilities
Because greenhouse users come in all shapes and sizes, we know that there is no "one-size-fits-all" greenhouse. That's why Sturdi-Built offers custom greenhouse solutions that meet the unique requirements of those using them. Whether the greenhouse will be utilized by someone with a disability, or by groups, like schools and community gardens, we offer solutions for every situation.
Some customer examples include:
Wheelchair-Friendly Greenhouse – We have a terrific customer who is wheelchair-bound, living with Lou Gehrig's disease. We custom-built benches to the proper height and depth to allow them to easily tend to plants. The Nantucket's double 30" Tudor doors provide easy access in and out of the greenhouse.
Schools – Sturdi-Built has several public and private schools with greenhouses. We provide the widest door possible for access, advise on interior design, including flooring selection and bench layout, and can provide tempered (safety) glass for side and end walls, as well as for the roof. Our greenhouses can be customized so that wall and roof height meet specific requirements. We offer design options that meet ADA requirements.
Community Gardens – No matter the size of the community garden, Sturdi-Built has a model that fits the needs of each. We offer models as narrow as 7′ and as wide as 16′. Double doors in the gable ends can be added to models at least 12′ wide for those that need wider openings to allow for wheelbarrow access and transport of large potted plants. Shade Cloth is offered to keep tender starts from burning in their early stages.
Options for Adapting and Overcoming:
Doors – Select wider doors for ease of access. There are market solutions for powered door openers that can work with our greenhouse kits.
Work Benches – Custom-sized for the needs of each customer. This includes the bench height, depth (reach) and even wheelchair accessible.
Irrigation – Water wands on coil hoses are light weight and easy to use.
Automatic Vent Openers – No batteries or electricity needed. When the greenhouse gets warm the roof vent opens. These are included with each greenhouse kit.
Floors – Select solid, smooth and sturdy flooring surfaces that are porous to let excess water through, but provide a barrier-free rolling surface.
Access to Hanging Plants – Pullies and hooks on a pole to reach and retrieve hanging plants.
Lighting (LED or fluorescent) – Both for work and for growing.
Climate Monitoring – Wireless thermometers and hygrometers.
Bins and Shelves – Using a piano dolly as a rolling platform to hold bins of soil, that easily roll in and out from under a bench.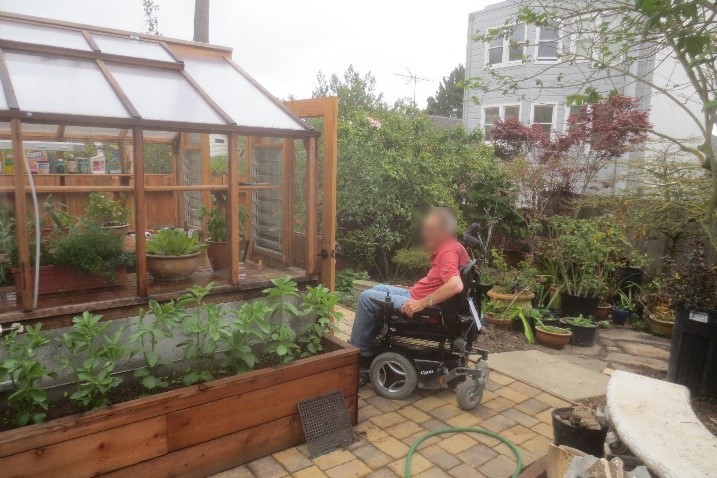 In this Deluxe greenhouse, we provided a wider door and right-sized benches, so access in and out of the greenhouse is possible.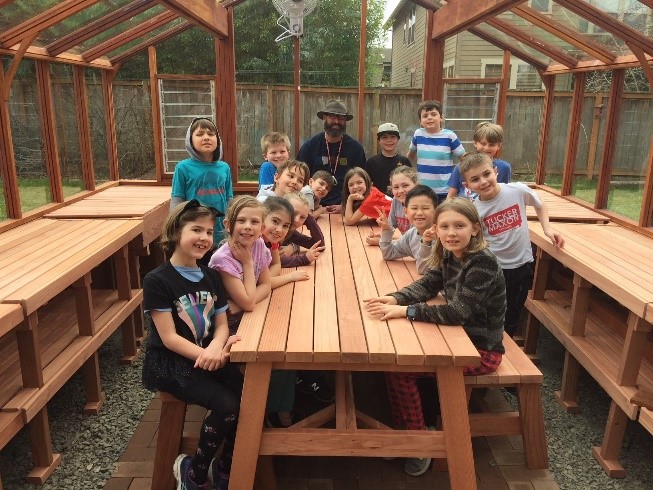 At the Tucker Maxon Elementary School in Portland, Oregon, the greenhouse is an outside classroom, with benches and chairs designed for youth.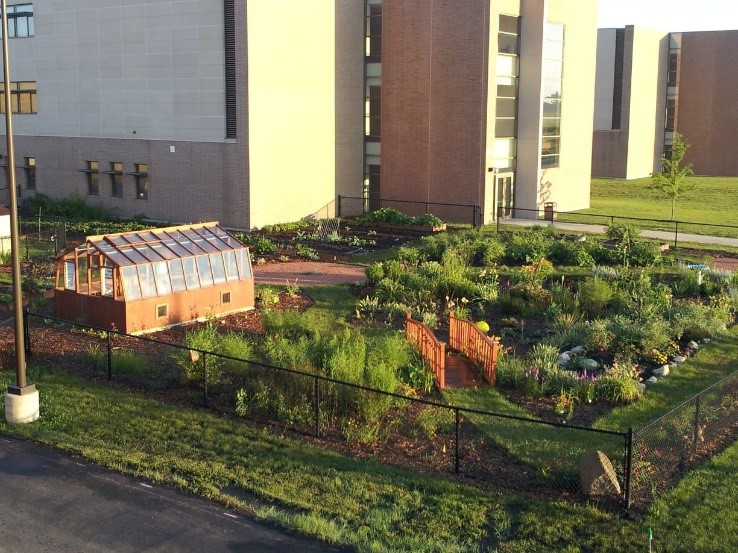 This 10×16 Tropic greenhouse in Woodstock, Illinois is being used to get vegetable starts going at a community garden.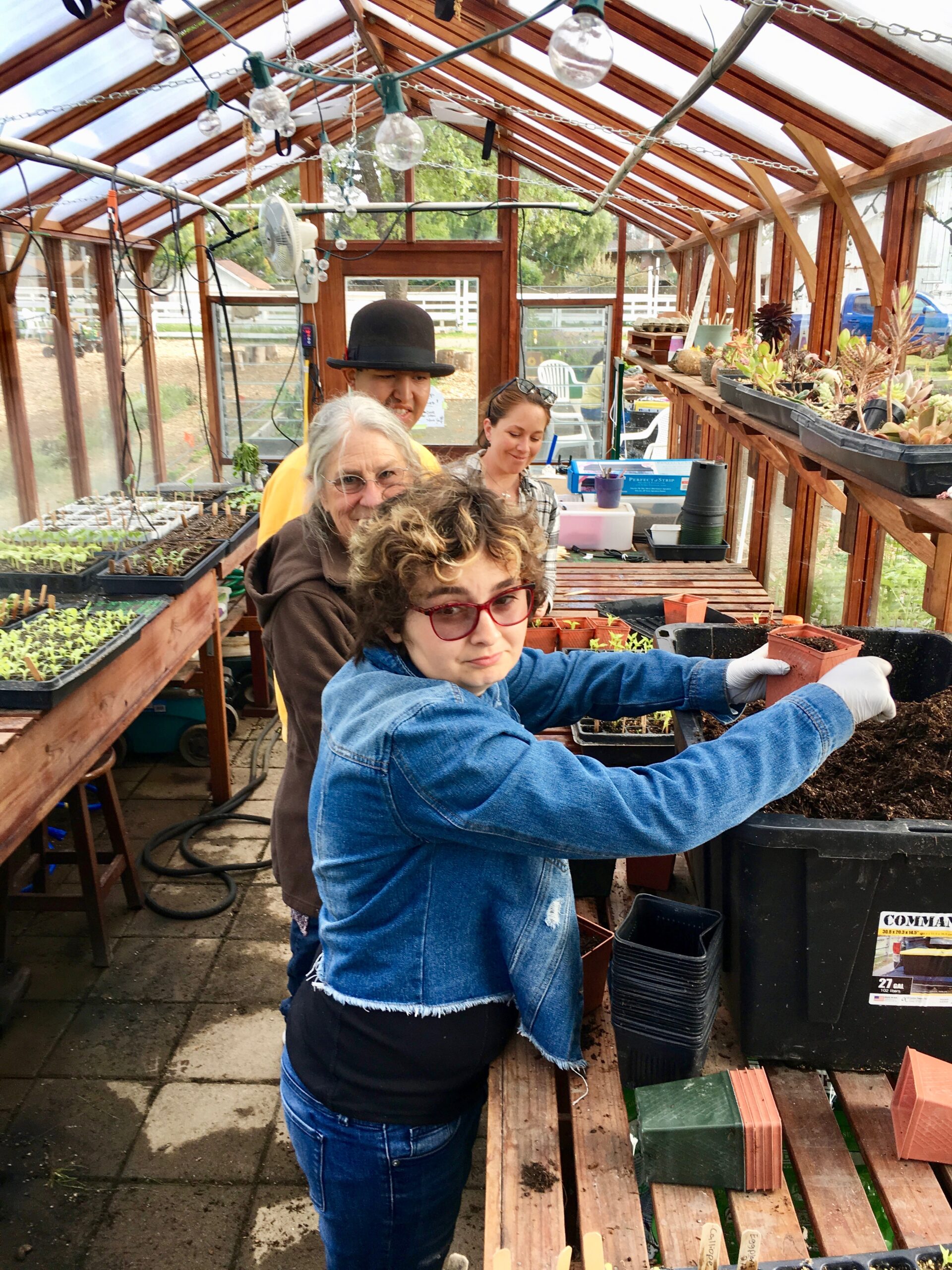 We worked with Sunflower Hill Garden in Livermore, CA on a greenhouse design to assist them with providing educational and vocational horticulture opportunities for adults with intellectual and developmental disabilities.