Greenhouse Kit Special – Half-Off Sale – One Available
Greenhouse Price: $5,230 (Current retail value is $11,060)
Optional Insert Walls 12 1/4″ wide x 6′-9″H to fill underneath eaves: $300
Garden Sunroom Lean-to 5′-11 3/4' wide by 9' long with a 30″ Full-Lite door hinged right to swing out in the right-most end wall, one overhead roof vent with an automatic vent opener, one jalousie window in the left-most end wall, one 2×6 redwood beam for roof support, standard glass wall glazing, either tempered glass or Twin Wall Polycarbonate roof glazing (your choice, no additional cost for either material option), includes an 18″ high wood base wall that will sit on customer's treated timber or masonry foundation. Custom Installation manual with drawings to prepare the foundation and assemble the greenhouse is included.
Similar greenhouses from other customers..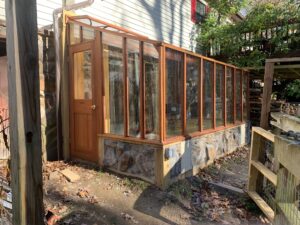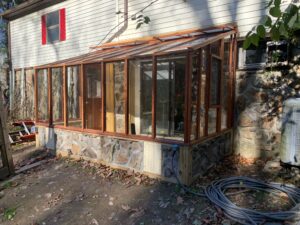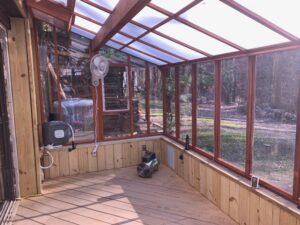 Key Dimensions:
• Height at the Ridge: 8′-3″ (assumes attaching to your shed's side wall, below the shed overhang)
• Height at the (Side Wall) Eave: 5′-9″
• Length at the Side Wall Sill: 9′-0 1/2″
• Width at the End Wall Sill: 7'-0"
Although greenhouse is new and not used, there was some cosmetic damage that occurred to the door and gable trim while in storage. The door and trim will be replaced from new stock and will likely be standard redwood color. As the rest of the wood has aged while in storage, and due to the new door and gable trim not being a perfect match in color, it is highly recommended that you consider a solid color stain or 2 coats of oil-based primer and color coat.
Make the kit a more complete solution by adding a bench along the outside wall, a second Jalousie window to permit cross breeze ventilation, shade cloth if you have a sunny location. See our Accessories Catalog for more ideas.
Click here for additional information on our Garden Sunroom model.
Give us a call at 503-244-4100 to speak with one of our sales representatives about this limited time offer.