Home offices, art studios and living spaces in a greenhouse offer beneficial experiences. Working in a greenhouse offers an ever-changing experience outside as you interact with views of your garden through the greenhouse's glass walls. Surround yourself inside with your favorite plants. You can attach the greenhouse to your home or a to separate standalone structure.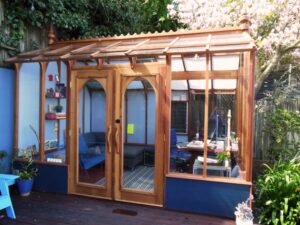 Working at home does not need to be boring. A greenhouse as your office offers a well-lighted indoor-outdoor place to work. Imagine joining a team meeting while showing off your garden Zen spot behind you. Or, as meetings drag on your mind and eyes can focus on the world outside. Building a greenhouse home office can be a great way have a secure separated space for working without spending a lot or giving up space in your home. You can nurture creativity inside a structure designed to nurture plants.
If the greenhouse is big enough to hold a table and chairs, then the greenhouse is the perfect space for relaxed timeouts and will allow you to extend your time spent outside. Opt for furniture in natural materials such as rattan and wood, overhead fans and add lanterns to create a warm ambience.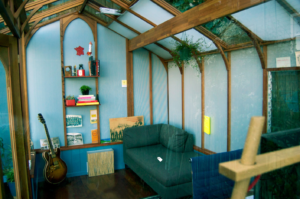 Can I put a home office in my garden? Despite all the planning permission considerations, consent is usually relatively easy to obtain. A greenhouse is a horticultural space and most localities allow greenhouses without permits if they are less than certain square feet – like 200 square feet. It's not hard to install a basic outdoor office once you have a permit, and it can be ready for your hard-working professional self within weeks. Home offices needn't be uninspiring shed conversions with plywood walls.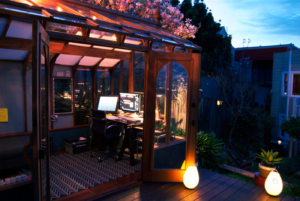 What type of floors are needed for a greenhouse office? For comfort and insulation use engineered flooring with a pad underneath. If you have a section where plants will be, alternative flooring like gravel or pavers will permit excess irrigation water to drain out.
What type of foundations are needed for a greenhouse office? Depending on your soils (clay, sand, expansive, rocky, sloped lot, etc.) your foundation should be deep and sturdy enough to support the structure. Your local building department can be a good source. In the Pacific Northwest soils, a treated timber foundation sitting in a bed of gravel is one option. On sites that are not level or have expansive soils, installing posts into the ground may be wise. Larger greenhouses need masonry footings.
Does a greenhouse office need ventilation? Yes. Ventilation of your greenhouse office is a high priority and should not be neglected. Every greenhouse requires ventilation to allow warmer air to escape, to permit cooler air to enter, opening windows, and even heating and air conditioning for comfort.
Does a greenhouse office need to be insulated? This depends on your local climate. Insulation keeps heating and cooling costs lower. There are different approaches to insulation available. At Sturdi-Built Greenhouse we offer our Thermal Option which adds a second layer of glazing, that improves the insulation.
What is the best way to heat a greenhouse office? Heating a greenhouse office can be with electric, natural gas or propane heaters. Electric are generally standalone and gas heaters need to be vented. Wood or pellet stoves are possible so long as they are safely installed with proper venting.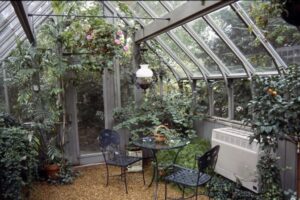 How do I power my greenhouse office? Connecting electricity to your greenhouse is simple. All you need to do is run a shielded cable from your main electricity supply in your home to your greenhouse. This is best done by installing the cable underground and connected to an electrical fuse box. GCFI receptacles are recommended. Using an extension cord is frowned upon by most electricians.
Can I put a sink in my greenhouse office? Yes. You can install a kitchen in your greenhouse so long as you follow building regulations and apply for appropriate planning permissions. For a working kitchen, plumbing, sewer and electricity is a must-have.
What tips are shareworthy for a greenhouse office?
Take time to map out how much space you need for what you will be doing. Mark it out on the ground. You don't want it to be too small for the task you're envisioning for it, and you may not want it to dominate the yard.
Visualize yourself inside the new space – Asking what needs to be in my office? Which direction will my desk face? What furniture or plants will be around me?
Give yourself plenty of time.
Get an extra set of hands to help you.
Schedule your project for a time when weather will be clear.
Which greenhouse models from Sturdi-Built function well as home offices?
Any greenhouse model from Sturdi-Built can work! A home office can be either freestanding or attached to your home. You may want a model with tall walls so that you don't feel too confined in the space. Many of our customers have used our lean-to models, like our Garden Sunroom, as a home offices due to the ease and convenience of being able to walk directly from the home into the office. However, a freestanding office greenhouse can allow you to separate home life from work life.
When speaking with one of our experienced sales consultants, let them know that you'll be using the space as a home office – they can take your climate and usage into consideration and outfit your greenhouse with everything needed to transform the space into the perfect home office.