Raised bed gardens with a greenhouse nearby is an opportunity to start your vegetables early. If your garden feeds families of deer, insects and/or birds, then plants inside the greenhouse become your protected growing space.
In-ground raised beds are better for certain plants, including zucchini, squash, pumpkins and melons. Strawberries, which are a favorite for most birds, may be better in a greenhouse if you want 100% of the crop for your family.
A freestanding greenhouse with raised beds inside has benefits. Lean-to greenhouses can work too. Mostly it's the protected space inside, so you can grow summer vegetables year around. However, a raised bed inside a greenhouse will need the same fertilizing and care as a raised bed outside. With a Greenhouse Glass roof over the raised bed, use caution when amending the soil when using a long shovel or other tool, as glass may be broken.
Grow Boxes and raised beds are similar in concept. The difference is that a raised bed is on the ground, where a grow box is on legs, with air circulating underneath. Raised beds typically have shallower boxes, which may limit the variety of plants to grow, like tomato's which like deeper soil.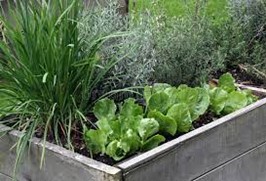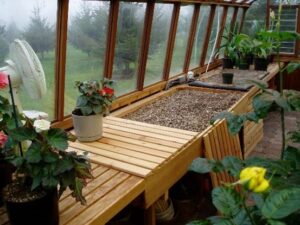 Soil Versus Dirt – What's in Containers, Raised Beds and Grow Boxes
Filling any container, grow box or raised beds with common dirt is typically a disaster. The dirt may compact, it may be nutrient poor, have critters inside, and may even have contaminates leftover from home construction.
As a gardener you want to make or purchase the soil to use as your media, that you trust. When you purchase a new plant, you will replace the dirt that came with the new plant with your trusted soil, after washing your pot in hot water.
Benefits of Raised Beds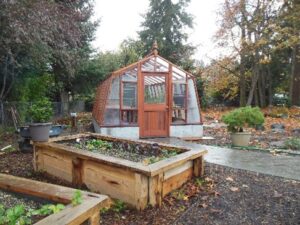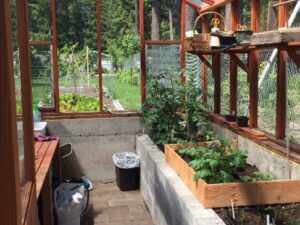 Raised beds provide easier access than digging in the dirt. Other benefits include:
Your garden looks neater. The raised bed walls keep soil in place and pathways between can be easier to navigate.
Targeted irrigation with drip or spay heads.
Got a sensitive back or have different mobility needs? The higher the raised bed, the less bending.
Got poor soil? Raised beds can be used in areas that have very poor soil.
Protects plants with defined walking areas.
Raised beds warm up quicker in spring than the soil, allowing for earlier planting.
Different drops have different soil needs – adjust the soil mix by beds to grow unique crops.
Concerns with a raised bed include:
Moles, gophers and voles enjoy raised beds. Use heavy gage small hole galvanized screening on the bottoms.
Overwatering or broken pipes in raised bed can lead to muddy paths.
Soil depletion – each year add good compost to your beds to optimize the growing.
Why a Raised Bed Greenhouse?
A greenhouse for your raised beds will extend your growing season up to year-around.
Raised beds in a greenhouse offers control over pests, light, temperature and humidity. For some, it means gardening inside when the weather is frightful outside. Pests are avoided inside a greenhouse to the degree the greenhouse has screens and other protections. Grow lights, heaters for the air, soil cable to heat soil, and irrigation systems can be used to provide the optimal growing conditions.
Types of Raised Bed Greenhouses
There's a lot of variation in greenhouse styles for a raised garden bed, but most are one of these basic structures: freestanding greenhouses, lean-to greenhouses, hoop houses or cold frames.
Hoop Houses
Hoop houses are typically the cheaper, temporary option. They have rounded frames (hoops – often PVC hoops) that hold up some type of greenhouse cover – usually a thick plastic. Hoop houses are a quick DIY project that are easy to put up and take down. Because of this, they're usually only put up when needed and may blow away in bad weather, and do deteriorate over time.
Cold Frames
A cold frame is the fancier raised garden bed greenhouse that requires some woodworking skills. They're attached to the above-ground beds, often on hinges, making them a permanent part of the garden. A cold frame is used year-round and is easily opened up as needed to water your bed with a garden hose or for other reasons. Also, they're usually the prettier option with a neat, box design. The drawbacks is their size and ventilation options.
Freestanding Greenhouses
Freestanding greenhouses provide a spacious shelter that allows avid gardeners a place to enjoy their plants year-round. It also grants you the power to control the environment of your plants down to even the smallest detail so that you can grow plants that may not otherwise thrive in your natural climate. If you've been dreaming of a greenhouse for your own purposes, look no further than Sturdi-Built's greenhouse kits. Made from luxurious redwood, our freestanding greenhouses are easy to build and we're happy to ship to anywhere within the country.
Frequently Asked Questions
Q: How wide should greenhouse raised beds be above ground?
A: If you'll only be able to access the raised bed from one side, make it as wide as you can comfortably reach the top of the soil (usually 32").
Q: Can I Put a Greenhouse Kit Over a Raised bed?
A: Yes, you can build a structure around the raised bed(s).
Q: How deep do Raised Beds need to be?
A: The top of the soil inside should be 8 to 12 inches deep, however the benefit of deeper soil is easier access without bending. As the raised beds get taller, its more difficult to turn the soil with a shovel.
Q: Does a greenhouse need ventilation?
A: Yes! That's one of the most important things you need in a greenhouse. Sturdi-Built greenhouse includes roof vents with automatic openers.